Real Life Details
Edit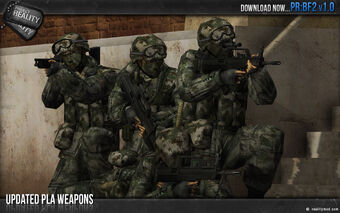 The People's Liberation Army is the military arm of the Communist Party of China (CPC) and the de facto armed forces of the People's Republic of China, consisting of land, sea, strategic missile and air forces. Initially called the Chinese Workers and Peasants Red Army, the PLA was established on August 1, 1927 which is celebrated annually as "PLA Day". The People's Liberation Army's insignia consists of a roundel with a red star bearing the Chinese characters for "Eight One",
This a bright beginning for China but until 2004 US raid China and this caused trouble for the Chinese.
The PLA is the world's largest military force, with a strength of approximately 2,250,000 personnel. The PLA comprises five main service branches, consisting of the PLA Ground Force, PLA Navy (PLAN), PLA Air Force (PLAAF), Second Artillery Corps (strategic missile force), and the PLA Reserve Force. Military service is compulsory, in theory, for all men who attain the age of 18; women may register for duty in the medical, veterinary, and other technical services at ages as young as 14. However, a draft in China has never been enforced due to large numbers of volunteers from China's huge population. Demobilized servicemen are carried in a ready reserve, which is reinforced by a standby reserve of veterans and by the militia.
China are close allies with Russia, North Korea and more communists countries.
In Game Details
Edit
The PLA is a OPFOR faction on most maps, while a BLUFOR faction on Black Gold.
Equipment
Edit
Small Arms
Grenades and Launchers

M83 Smoke
AN/M14 Incendiary
Type 82 Fragmentation

Man Portable Anti-Vehicle Weapons
Emplacements

HJ-8 Red Arrow
SA-18 Emplacement
Type 85 HMG

Mines

M15 Anti-Tank Mine
Type 66 Claymore
Ground Vehicles

FAV Buggy
UAZ-469
DShK HMG UAZ-469
VN3 Armoured Scout Car
Ural-4320

Helicopters
Jets
Operation Maps
Edit
AAS

Operation Barrucuda (USMC vs China)
Operation Ghost Train (BAF vs China)
Qwai River (USA vs China)
Shijia Valley (BAF vs China)
Tad Sae Offensive (USMC vs China)
Black Gold (China vs Russia)

Insurgency

Black Gold (Chine vs Militia)